Libretto Part Numbers
Memory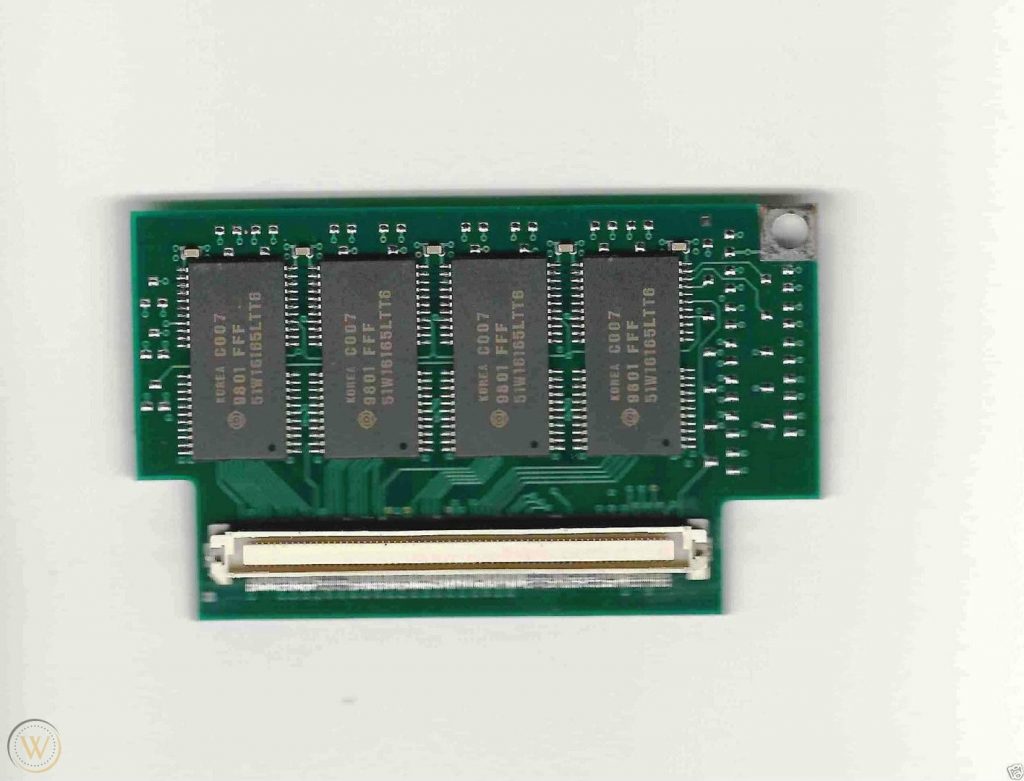 By far the most coveted upgrade for the Libretto. It took me buying another unit just to get this. There are several manufacturers who made memory, and here are the part numbers:
| | |
| --- | --- |
| Manufacturer | Part Number |
| Toshiba | PA2056U |
| Toshiba | NW2056U |
| Toshiba | PA2051UJ |
| Kingston | KTT LBT16 |
| Transcend | TS16MTL50 |
| Kahlon | KTOS50B |
These units are compatible with the 50CT, 60CT, and 70CT
Display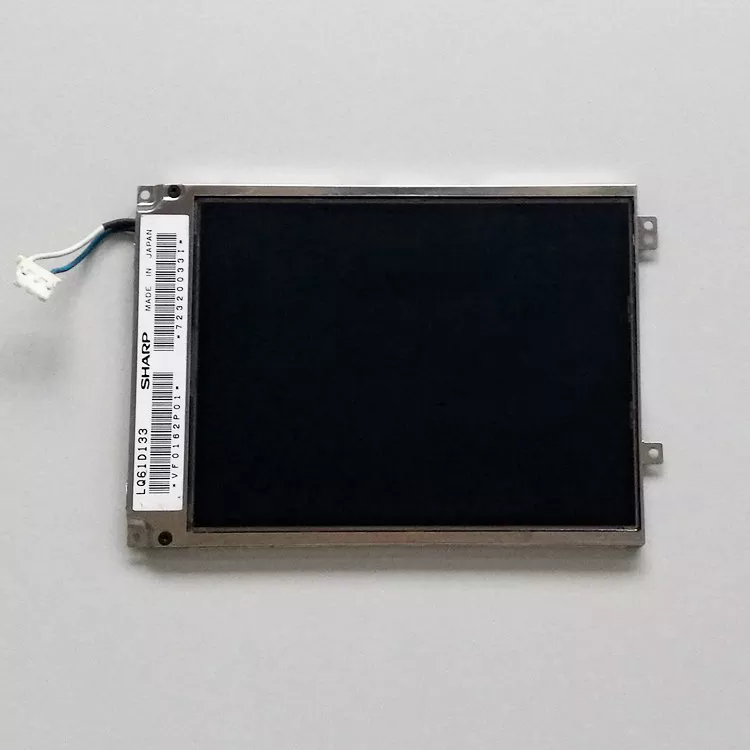 The display panel the Libretto uses is the Sharp LQ61D133. I am not sure if any other display units are compatible, but if there are, be sure to let me know!
Other Part Numbers
This is the 70CT part number reference manual. The scan is rather low quality, but hopefully it is large enough to make out the details.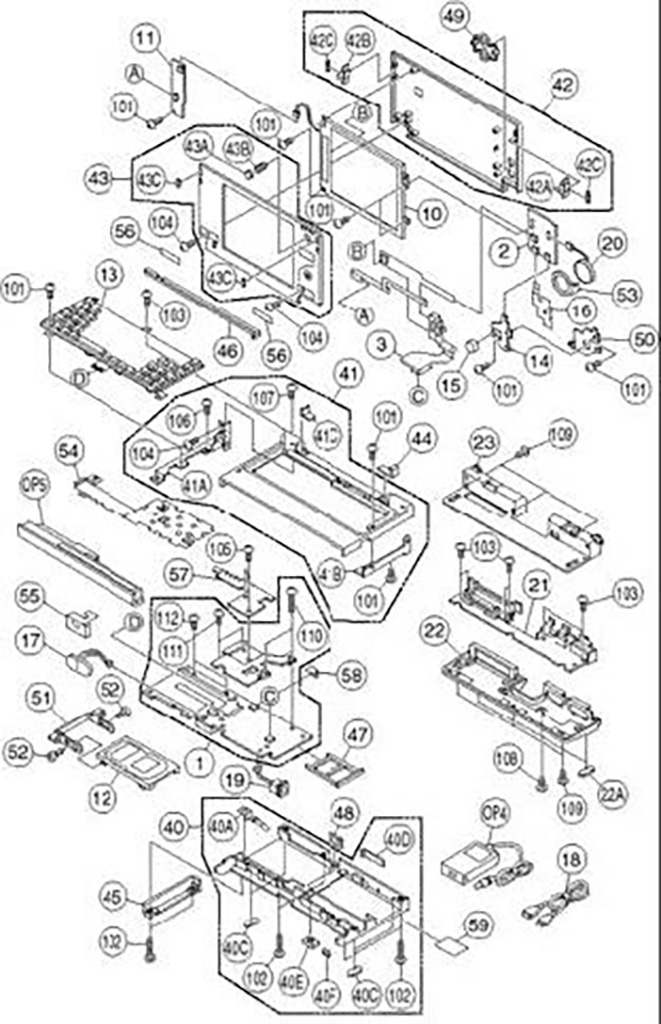 Nº
Toshiba PN
Description
1
P000245990
PCB FLHSY3
2
P000236840
PCB FLBMC3
3
P000236850
PCB FLBLC3
10
P000236950
COLOR LCD MODULE
11
P000236960
FL INVERTER
12
P000233710
HDD UNIT (1.6GB)
1-12
P000256520
HDD UNIT
13
P000246000
KEYBOARD UNIT
14
P000237000
POINTING DEVICE
15
P000246160
STICK CAP SET
16
P000237030
MEMBRANE SWITCH
OP5
PA2452UR
MAIN BATTERY
17
P000237040
NI-MH BATTERY
OP4
PA2500U
UNIVERSAL AC ADAPTER
18
P000182200
AC CORD SET
19
P000237050
DC JACK HARNESS
20
P000237060
SPEAKER
21
P000237070
PCB FLBIO2
22
P000237080
BASE ASSEMBLY, I/O
22A
P000237100
BOTTOM CUSHION
23
P000237090
COVER ASSEMBLY, I/O
40
P000246020
BASE ASSEMBLY
40-A
P000256530
BASE ASSEMBLY
40A
P000246060
EARTH PLATE, LEFT
40C
P000237150
BOTTOM CUSHION
40D
P000237160
PCMCIA EJECT
40E
P000237170
BATTERY LOCK
40F
P000237180
BATTERY SPRING
41
P000246030
COVER ASSEMBLY
41A
P000246070
BRAKE HINGE
41B
P000246080
BOSS PLATE ASSEMBLY
41C
P000237200
HINGE COVER
42
P000246040
LCD COVER ASSEMBLY
42A
P000237230
LCD LATCH, RIGHT
42B
P000237240
LCD LATCH, LEFT
42C
P000237250
LCD LATCH SPRING
43
P000246050
LCD MASK ASSEMBLY
43A
P000237260
POWER SWITCH
43B
P000237270
POWER SWITCH SPRING
43C
P000202500
LCD CUSHION
44
P000237380
AXIS COVER
45
P000246090
HDD COVER
46
P000237400
KEYBOARD HOLDER
47
P000237410
DUMMY CARD
48
P000237420
IR LENS
49
P000237430
POINTING SWITCH
50
P000237440
IPS PLATE
51
P000246100
HDD EJECT
51-A
P000256540
HDD EJECT
52
P000237460
SCREW
53
P000237470
SPEAKER COVER
54
P000246110
KEYBOARD EARTH ASSEMBLY
55
P000237490
INSULATOR, RTC BATTERY
56
P000237500
MASK SEAL
57
P000237510
COOLING PLATE
58
P000237520
PLATE, STEREO JACK
58-1
P000248520
PLATE, STEREO JACK
101
P000215140
SCREW M2X3C
102
P000239500
SCREW M2X14C
103
P000207950
SCREW M2X4Z
104
P000239510
SCREW M2.5X5Z
105
P000239520
SCREW M2.5X8
106
P000239530
THIN SCREW
107
P000023310
SCREW M2X4
108
P000230440
SCREW M2X5C
109
P000229510
SCREW M2X4L
110
P000225470
SCREW M2X10Z
111
P000207940
SCREW M2X6
112
P000210110
SCREW M2X3Z
OPTIONS
OP
KTT-LBT/8
KINGSTON 8MB EDO MEMORY
OP
KTT-LBT/16
KINGSTON 16MB EDO MEMORY
OP
PA2718U
ENHANCED PORT REPLICATOR
OP
PA2498UR
HIGH CAPACITY BATTERY PACK
OP
PA2612U
FLOPPY DISK DRIVE KIT
OP
PA2499U
BATTERY CHARGER